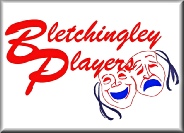 ABOUT BLETCHINGLEY PLAYERS / BADS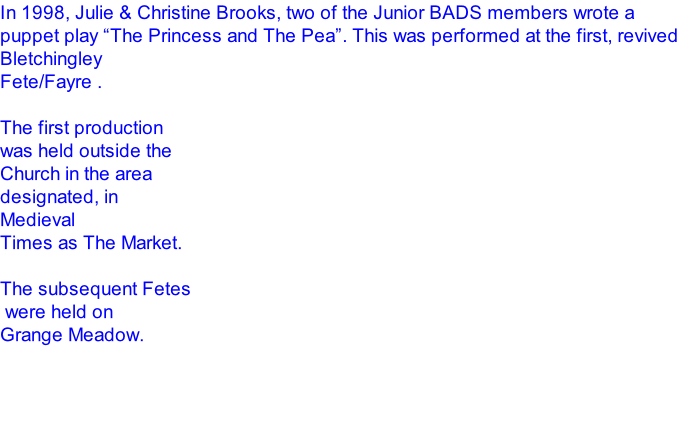 JUNIOR BADS - AS REMEMBERED BY MARIAN BUCK
In the1980's we had a very keen group of youngsters in a panto (Possibly Jack & The Beanstalk in 1982) and so JUNIOR BADS was formed with, at one time, 23 Members.
JUNIOR BADS were entered with the play "The Island" by Michael Barwis in the S.E. Surrey Juniors Festival and they won a certificate. This was kept by the Secretary of that time.
PUPPET PLAY AT FIRST REVIVED VILLAGE FETE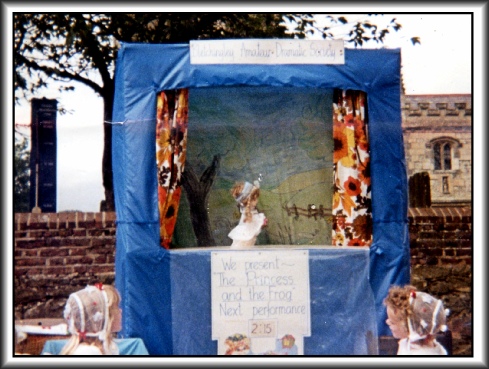 JUNIOR BADS also performed in later Pantos.


Aladdin had brothers Greg & Matthew Winter and Marian's own Daughters, Cathering & Suzanne joined in 1990's.
Of the Junior BADS group, Naomi Paxman (Red Riding Hood herself) went on to Drama School
JUNIOR BADS included the following performers (and many others!)
Christine Brooks
Mandy Haiselden
Catherine Herbert
Suzanna Lund
Catherine Buck
Suzanne Buck
Greg Winter
Matthew Winter
Naomi Paxman