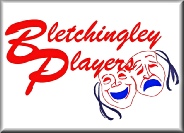 ABOUT BLETCHINGLEY PLAYERS / BADS
THE DRAMA HUT FIRE CA 1984 - AS REMEMBERED BY MARIAN BUCK
Before BADS / Bletchingley Players relocated to their final premises in the former Scout Hut on Grange Meadow, there was another Drama Hut.
This was originally built as classrooms by the Canadians During World War II and was situated on the edge of the existing playing field, just above the "New" hut.
Unfortunately one August, probably in 1984, an arson attack destroyed half of the building and a great deal of equipment was lost.
The story was reported in The Surrey Mirror at the time. The cutting (Right) shows then BADS Chairperson Marion Buck in the ruins.