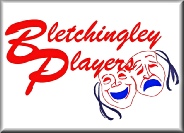 HARVEY (The Rise and Fall) 16-18 MAY 2019
HARVEY - by Mary Chase
Putting on a play at Bletchingley Village Hall requires huge amounts of time and a lot of teamwork from some very dedicated people. Starting from Sunday 5th May, some of us were very busy......we had around 4 days x 8 hours building and rigging the stage and set, the odd rehearsal at The Hut and The Village Hall then the three performances. After that it took 3 hours to dismantle everything and return the hall to normal use!


In the run up to the run of the show (16-18 May 2019) some of us were very busy.
Sunday 5th May: Collect scenery, props etc from The Hut and deliver to The Village Hall. Assemble stage and associated fittings. Construct set all day. Full run rehearsal at The Hut (Minus scenery and props!) That evening.
Monday 6th May (Bank Holiday): Further work on set all day with full rehearsal on stage that evening.
Wednesday 8th May: Rehearsing selected scenes at The Hut.
Friday 10th May: Full Rehearsal on stage.
Saturday 11th / Sunday 12th May: Fit all doors, door furniture, architrave, skirting board. Completely paint and dress set. Full rehearsal 1-2 times through play Sunday evening.
Monday 13th / Tuesday 14th May: Dress Rehearsals.
Wednesday 15th May: DAY OFF!
Thursday 16th - Sat 18th May: PERFORMANCES!
Sunday 19th May - Get Out.