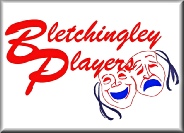 SOME OF OUR MOST RECENT PRODUCTIONS
(PHOTOS MAINLY TAKEN BY DORIS PARKER)

This was the story of five women whose friendships began on their college swim team. They met up every August to recharge those relationships at the same beach cottage in North Carolina to catch up, laugh and meddle in each other's lives. When fate threw a spanner into one of their lives, these women proved the enduring power of friendship.


It's curtain up but lights out in this (amateur) dramatic murder mystery. When Ralph Valentine, Director of 'the Powder Keg Players', is stabbed onstage during a rehearsal, it's the society's cast and crew who find themselves in the spotlight for murder!

Harvey by Mary Chase is a Pulitzer Prize winning play made famous when it was made into a film starring James Stewart. The story is of the amiable Elwood P Dowd and his best friend Harvey, a huge white rabbit which only he can see. Harvey was directed by Liz Tomlin whose previous productions include "On Golden Pond", "Pygmalion" and the UK amateur premier of "The Graduate."



Iron Magnolias was set in a hairdressing salon in the North, and featured several diverse characters who were having their hair done for various special events. Then, something went horribly wrong - with hilarious consequences.


Photo Gallery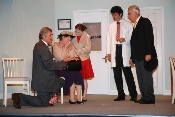 ONE ACT COMEDIES - MAY 2018
Trip of a Lifetime was about a young man who treats his parents to a round the world trip to celebrate their 50th wedding anniversary. The fractured relationship he has with his parents is explored with humour and poignacy.
Dixie Swim Club - MAY 2017

Who Killed The Director? - OCTOBER 2016

It's murder-mystery meets Father Ted as preparations for the annual Summer Fayre bring mayhem and murder to the picturesque village of Steeply Willows!
Who Killed The Vicar? - OCTOBER 2017



This farce by William Norfolk was staged in May 2016. Directed by John Tomlin it tells how a group of widows form a co-operative but as the cost of living rises they quickly realise that they need to reduce their numbers. Murder is afoot. The cast were Jennifer Hyde, Anna Robinson, Liz Tomlin, Scott Carty, Nicola Walton, Felicity Lund and Eileen Jackman.
Caramba's Revenge - MAY 2016


Life and Beth by Alan Ayckbourn.
Recently widowed Beth finds herself suddenly free of her kindly but very domineering husband Gordon, who comes back as a ghost, still trying to run her life.
Life & Beth - OCTOBER 2015


The Sunshine Boys by Neil Simon is about Al and Willie as "Lewis and Clark" who were a top-billed vaudeville act for more than forty years – now they aren't even speaking. When CBS requests them for a "History of Comedy" retrospective, a grudging reunion brings the two back together, along with a flood of memories, miseries and laughs.
The Sunshine Boys - MAY 2015


Death at the Granby Arms – A whodunnit farce by John Mc Dermott. Set in an old coaching inn, this mystery features Aubrey Fox, a local businessman, who has set his heart on taking over the whole town. Part of his empire is to be the recently acquired Granby Arms which had been run as a pub, but which is to be converted into a hotel. Profit is the sole purpose behind the purchase, so the threat to the livelihood of the two sisters working there is of no concern to Foxy. Beattie Cable and her sister Margaret are both employed behind the bar at the pub.
Death At The Granby Arms - OCTOBER 2014


Ladies in Retirment by Edward Percy & Reginald Denham - Melodrama set at the turn of the century and based on a famous murder which actually took place. An eerie atmosphere of mystery is evoked in a dark, lonely house on the marshes of the Thames estuary. The characters, presented with great psychological realism and the strong vein of earthy comedy invest the play with a liveliness unusual for such a genuinely horrifying murder play.
Ladies in Retirment - MAY 2014


Miss Pilgrim's Progress by Betty Quin Outdoor Pleasures by Jean McConnell Last Post by Jean McConnell
Laughter & Tears : 3 Short Plays - MAY 2013


Wife After Death by Eric Chappell - When a well-known comedian dies his family and friends discover dark secrets from his past. Eric Chappell, has written many comedies for stage and TV, including Rising Damp, The Bounder and Home to Roost. The Players had previously staged two of his plays – Haywire and Natural Causes.
Wife After Death - OCTOBER 2012




Café Society by Ayshe Raif Rugs & Pewter by Sam Bate A Cut in the Rates by Alan Ayckbourn
A Bundle of Laughs Review - MAY 2012


The Cemetery Club by Ivan Menchell: Three Jewish widows meet once a month for tea before going to visit their husbands' graves. Ida is sweet tempered and ready to begin a new life; Lucille is a feisty embodiment of the girl who just wants to have fun, while Doris is priggish and judgmental. When Sam the butcher enters the scene and begins dating Ida, Doris and Lucille put the kibosh on the budding romance. Guilt-stricken when this nearly breaks Ida's heart, can they right the wrong of their meddling and save their friendship?
The Cemetery Club - OCTOBER 2011
This farce by William Norfolk was staged in May 2016. Directed by John Tomlin it tells how a group of widows form a co-operative but as the cost of living rises they quickly realise that they need to reduce their numbers. Murder is afoot. The cast were Jennifer Hyde, Anna Robinson, Liz Tomlin, Scott Carty, Nicola Walton, Felicity Lund and Eileen Jackman.
Natural Causes - MAY 2011


A Month of Sundays is Bob Larbey's first stage play, although he is well known for writing many television series such as The Good Life, Please Sir, Get Some In and Ever Decreasing Circles, with his co-writer, John Esmonde. His first solo venture for television, 'A Fine Romance' won the British award for Best Comedy In 1982. A Month of Sundays was first produced in 1985 in Southampton.
A Month of Sundays - MAY 2010


Haywire by Eric Chappell
While the wife is away the husband tries his hand at infidelity but his plans are thwarted by his son and daughter.
Cafe Society is set in the early 1980's and takes place in a run down East End Café that is due to close due to lack of business. The cast consists of three old friends who have known each other all their lives, and meet regularly in the café. As well as reminiscing about old times they ponder on imminent changes in their personal lives, and where they can meet in future.


This classic play by Ernest Thompson was made famous by the film version starring Henry Fonda and Katherine Hepburn. John Tomlin and Di Brook played the lead roles. It was directed by Liz Tomlin and tells the story of Norman Thayer's fragile relationship with his daughter (played by Felicity Lund) and how, as he nears the end of his life, he finds joy in the bond he forms with his grandson.
On Golden Pond - MAY 2003

The Female Odd Couple - JUN 2001

Neil Simon's successful play The Odd Couple was rewritten by him for a female cast. Our production was directed by John Tomlin and our odd couple were played by Felicity Lund and Liz Tomlin. John Buck and Ron Butler played the two lotharios who lived upstairs. Other members of the cast included Jackie Lucas, Joanna Scott and Sally Harling.

This play looks at the emotional turmoil experienced by Grace whose late husband, Bardolph, was the local vicar.

At times funny and at times very poignant, the play slowly uncovers the repression and resentment that Grace has been suppressing throughout her marriage and questions the very foundation of her faith
Photo Gallery
Set Clearance Photos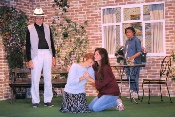 ENTERTAINING ANGELS - OCTOBER 2018
"The Rise and Fall"