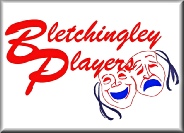 ABOUT BLETCHINGLEY PLAYERS / BADS

CLASSIC PRODUCTIONS OVER THE YEARS
Apart from farce, comedy and pantomimes, the Society has staged many classic plays over the years from playwrights such as George Bernard Shaw and Noel Coward to J B Priestly and Neil Simon.
These plays included Blithe Spirit, On Golden Pond, Steel Magnolias, The Graduate, Pygmalion, An Inspector Calls,The Odd Couple and The Sunshine Boys to name but a few.
Bletchingley Players entertained local audiences for more than 50 years. Originally known as Bletchingley Amateur Dramatic Society (BADS), the group was founded in the 1960's at an inaugural meeting attended by Betty Bristow, Mary Wilson, Kay Winter, Paddy Martin and Peggy Wheeldon. Betty Bristow was a member and regular supporter of the group until her death in 2007. She was Honorary President of The Players for many years as well as both acting in and directing productions.
Mary Wilson played the part of the Fairy Godmother in a mini panto of Cinderella at the grand age of 90. Paddy Martin was an actress and director for many years. Other well-known Bletchingley folk who were involved in the early days were Joyce Jones, Joan Marshall and Stanley Hurrell. Mary Wilson's daughter, Marian, met her future husband, John Buck, at the AGM in 1974 when she was home on leave from Hong Kong. Marian and John remained members and both appeared in and directed a number of plays over the years, including Murder on the Gigantic, a murder mystery written by John and directed by Marian in 2005. The show page for this contains character descriptions.
Everyone wanted to be the murderer so there were 10 possible endings!
In the early days performances took place in the old Village Hall where there was a permanent stage and the audience were seated in traditional theatre-style rows. The box office was in the old post office run by Alan Bristow where Lawrence's Auction House now stands.
The old Village Hall was eventually condemned and, until the present Hall was completed, performances moved to St Catherine's School. Rehearsals used to take place at Clerks Croft until it was closed and demolished to make way for housing.
BADS then moved to an old school classroom on the bank above where the children's playground now stands in Grange Meadow.
The building was used to store stage equipment, props and costumes as well as providing a venue for rehearsals.
Unfortunately an arson attack destroyed half of the building and a great deal of equipment was lost. - CLICK ON BUTTON ABOVE FOR MORE INFORMATION.
BADS continued at the original hut for a number of years until they were fortunate enough to acquire the old Scout Hut, now renamed The Drama Hut, at the entrance to Grange Meadow.
By sheer good luck, the Drama Hut was exactly the same width as the stage at The Village Hall, so it was possible to erect a set there and rehearse using the same dimensions as for the performances.
At one time the group used to put on three plays a year, as well as entering a one act play in the Betchworth Festival and presenting a pantomime at Christmas.
BADS were finalists in the local heats of the Festival in 1975 and went through to the next round at Fairfield Halls with one act of When we Were Married by J B Priestley.
Starting in the 1980's there was a Junior BADS with 23 members. They entered the Junior SE Surrey Area Amateur Dramatic Festival and won an award for Island. - CLICK ON BUTTON ABOVE FOR MORE INFORMATION
Two authors came to see their plays performed: John Morley enjoyed his Jack and the Beanstalk and the author of Haul for the Shore presented the cast with a cake following which their picture appeared on the cover of STAGE.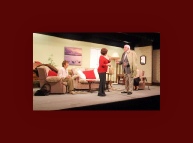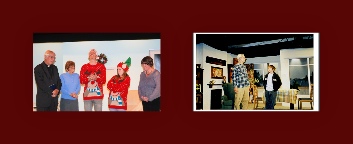 At an Extraordinary General Meeting of The Bletchingley Players
held on 25th September 2019, it was with great sadness and
reluctance that the majority of members voted to
close down Bletchingley Players with immediate effect.
This was due to problems, that will be familiar to many other struggling or closed societies: No-one came forward offering to direct the November production which meant the Players had already cancelled it. Bletchingley Players had a static and ageing membership and It was increasingly difficult to get enough people involved in stage and set construction as well as front of house and other areas. Plays became more difficult to cast because of our very small pool of actors and Directors. It was also difficult to get people to serve on the committee.
Sadly, after many years of dramatic productions in the village, the Bletchingley Players final play "Harvey" in spring 2019 was an excellent production to end on.